This entry was posted in Patio on August 09, 2016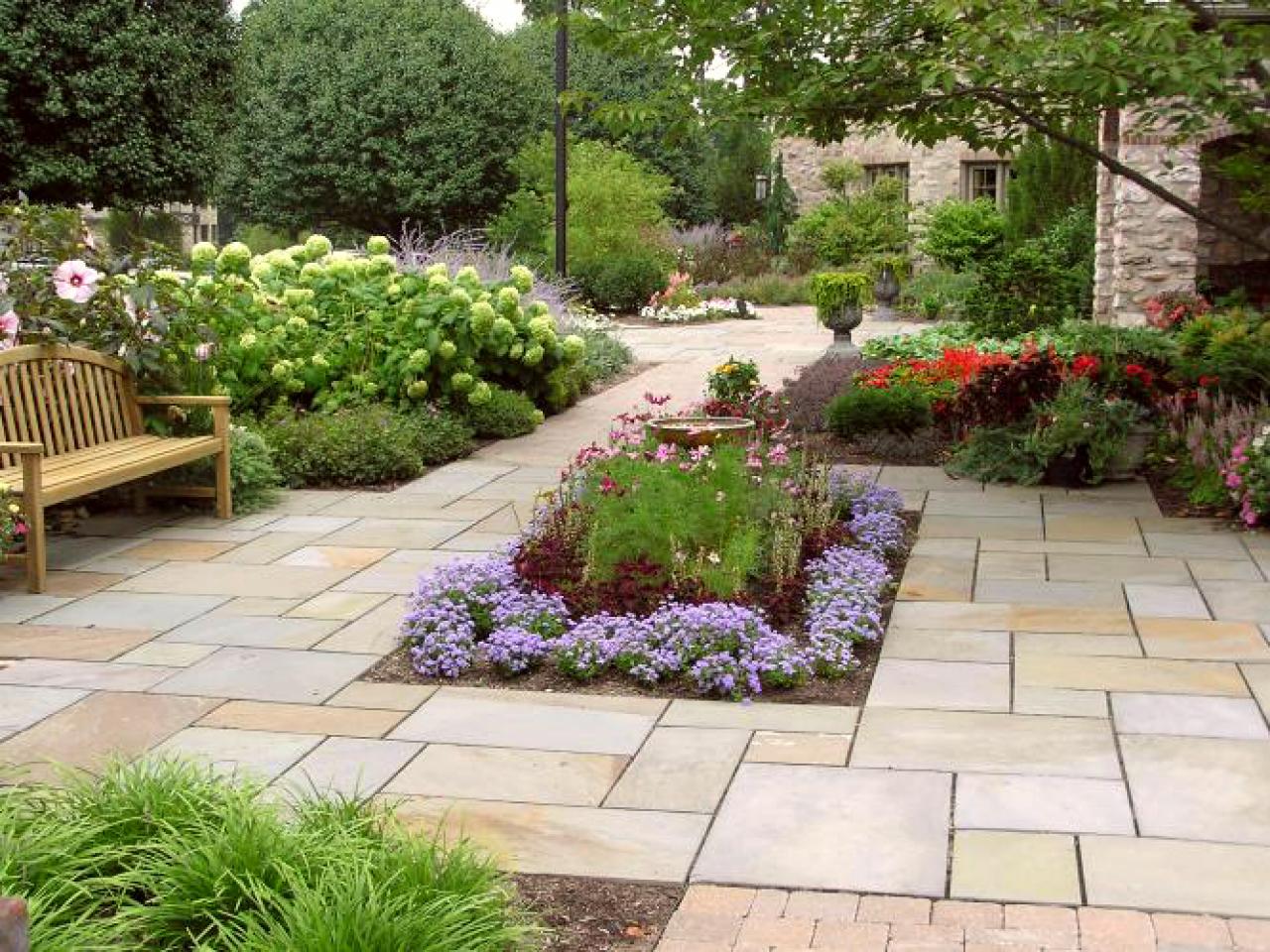 Your patio space is ideal for showcasing and highlighting with container plants and potters filled with flowers and greenery of all colors and textures. Add pops of color, and soften hard surfaces with succulents and blossoms. Blend the green of your lawn with surrounding garden beds and containers of plants that complement the rest of the yard. Strategically placed containers can also be used to create cozy zones and borders in different areas of your deck or patio.
When choosing patio plants first ask yourself how much maintenance are you willing to do? Many plants require regular trimming and weeding to keep them growing and looking healthy. Sticking with durable plants that don't over grow is your best bet. Annuals are a perfect option for patio growing. These types of flowers grow great in large pots and are long blooming through the seasons, seeding in the summer months. Perennials, on the other hand typically have a shorter bloom period, but if taken care of properly will return every year. These also work well in containers. Perennials need to be divided every 2-3 years to keep them blooming but will continue to seed and spread giving you more flowers to fill your yard with every year.
Here are some of the best plants to grow on your patio:
Herbs and Vegetables
Growing tomatoes, peppers, fresh mint, oregano, or rosemary near the cooking area of the patio is convenient and easy. Herbs thrive on sunlight, and having a garden of your favorite veggies is a delicious treat.  
Geraniums
Extremely easy to care for and they come in a range of vibrant colors.
Bamboo
Add an element of Zen to your patio. The height of bamboo plants is great for small spaces to add the illusion of more room. Keep it small or grow in a large container for a fast-growing screen to add privacy.  
Lantana
These beautiful multi-colored flowers come in red, orange, yellow, pink, and white and are also loved by butterflies.
Mandevilla
This flowering vine is fast growing and blooms in large trumpet shapes in shades of pink, red, and white.
Sunflowers
Classic, bright, and summery – sunflowers look great in clay pots and boxes. Let them grow as tall as you want.
Agave
This stunning plant has bold succulent leaves that give an earthy and architectural feel to any patio. Agave is incredibly heat tolerant and long lasting.
Jasmine
Grow in full sun or partial shade – this scented plant comes in shades of yellow or white. The star shaped blooms grow as a twining vine, best for a trellis or arbor.
There is no right or wrong plants to grow on your patio, as long as you choose ones suited to your climate and give them plenty of room to grow and thrive!
---
This entry was posted in Table tennis on August 01, 2016
A racquet or paddle is the most important piece of equipment in a game of table tennis. It's what controls the speed and spin of the ball when you serve or hit it back to your opponent. Having a quality paddle that feels comfortable in your hand will make a huge difference in your game.
How They're Made
Paddles are typically purchased by the manufacturer, but many serious players and professionals have their paddles custom made.
Pros of Buying a Pre-Made Paddle
- Typically cheaper
- The paddle is already assembled and ready for use
-  No need to purchase edge tape, glue, or tools for assembling the blade
- Simpler options when choosing a paddle, if you are not an experienced player yet
Pros of Buying a Custom Paddle
- Greater options in rubber choices
- Blades are categorized so you can choose one that best fits your playing style
- Higher quality blades
- As you learn to play and change your style you can change the rubbers
- Replaceable rubbers let you replace them when they wear down
- Rubbers can be speed glued
For those custom making their paddles the first step is choosing a blank blade, or a paddle without rubber, this is usually decided based upon a person's playing style. The type of wood, or synthetic material used to make the blade will determine its speed. Next a sheet of rubber is glued to a blade using glue made especially for table tennis. The different types of rubber sheets affect the level of speed and spin when you hit the ball.
Maintaining and protection
The surface of your table tennis paddle will become smooth and sleek with use. Water and gentle soap can be use on the paddle for cleaning to maintain its high friction service for ball spin. The rubber may be damaged with long exposure in the sun, so for your outdoor table tennis tables be sure to keep your balls and paddles indoors or in a protected place. Or check out KETTLER's Halo 5.0 Outdoor TT racquet. For a quick fix if rubber begins to peel up, rubber cement or other similar products can be utilized as a temporary way to keep your paddle usable.
Grip Techniques
When using your table tennis paddle there are two common grips: the pen grip and the shakehand grip. When using the pen grip you hold the paddle just like you would hold a pen or pencil. For the shakehand grip you place your hand on the paddle's handle as if you were shaking hands with it. While both styles of grip are common, no matter which you decide feels more natural for you always hold the paddle loosely, allowing your wrist to move freely. Many KETTLER racquets featuring concave handle with ergo grip and shock absorber inside the handle to absorb any vibration that may affect play.
---
This entry was posted in Patio on July 27, 2016
Resin furniture is growing in popularity as a mainstay in outdoor furnishings and casual furniture. As people spend more time outdoors, they want comfort and style without sacrificing elegance and durability. Resin is ideal for pool, deck and patio furniture because it has these features and can be molded into ornate or simple patterns on chairs and tables in a variety of colors.
Weather Resistant
Resin furniture is water resistant and slightly formal in appearance. It is also resistant to chlorine and salt, which makes it practical for poolside and beachfront decks and patios. Resin is a synthetic plastic material with a rigid molded quality. Although this is a type of plastic, it is environmentally friendly because it can be recycled and lasts longer than metal or wood. It is more elegant than traditional plastic or metal lawn chairs and holds up well in hot and cold climates.
Tough
Consumers like resin outdoor furniture for its durability and the fact that it can be left outside in nearly all types of weather without a lot of extra care and cleaning. Unlike some plastic derivatives or synthetic materials, it is also suitable seating for daily use by adults. When considering resin furniture, look for replaceable feet to extend the life of the furniture.  
Care
To keep resin outdoor furniture looking fresh, it can be hosed down with water and, for stubborn dirt, wiped with a sponge or microfiber cleaning cloth. It does not rust or fade, so it does not require an additional protective coating or repainting. It does not deteriorate or peel when it comes in contact with suntan oil or falling rain. To keep chairs and other patio furniture dry for quick access, custom covers are often sold as a set or come separately. These covers prevent a wet seat or protect less durable seat cushions from the rain and snow. The custom covers are for comfort and convenience of the user, rather than prolonging life and durability of the outdoor furniture.
Uses
For example, chairs, serving carts, dining tables, end tables and ottomans are also different types of deck and patio furnishings made from this material. They are appropriate for home and commercial use. While not so common for indoor use, these pieces are popular for patios, gardens back yards, decks and cabanas.
Style
Using different types of resins for different looks and thicknesses, it is used to create different looks. When chairs are paired with seat cushions, they take on a more comfortable and casual look. A neutral color chair can be combined with cushions of various colors to bring a fresh look every few years.  When a tabletop is paired with a metal frame, it becomes more sophisticated.
---