This entry was posted in Table tennis on April 11, 2018
If you're planning on some spring fun with your kids and you get rained out, you don't have to scrap you plans for some quality time. Enjoy the day anyway with some rainy day adventures. Instead of turning on the TV, put together some fun indoor activities that everyone can enjoy. These are the days that make fun memories your children can remember for years to come.
Make a Fort
The indoor fort never loses its allure. Use some large blankets to completely cover your dining room table area and make a fort. Put the coziest and fluffiest blankets on the floor inside. Invite the kids to bring their pillows, a few books and their favorite stuffed animals. Add a flashlight, a deck of cards and perhaps some activity books. Pretend you're on a camping trip or on a voyage to a land far away.
Table Tennis
One fun way to get the kids active and have fun on a rainy day is a game of indoor table tennis. You can play singles or in teams. If you have an odd number of people, one person can be the scorekeeper. Another option is to put your skills and pride to the test and let the kids play as a team against you.
Ant-Free Picnic
Who says picnics have to be outdoors? Enjoy the indoors on a rainy day with a picnic in your living room. Plan a menu and have the children help you make lunch as if you were going to the park. Pack a basket full of drinks, snacks and sandwiches. Spread out a blanket on the floor and bring along a portable radio for some extra fun. Take it one step further by making a follow the leader procession from your kitchen all around the house – with your picnic supplies in tow – before arriving in your living room. Set up your picnic area together as if you've been on a long journey.
Embrace the Rain
For those days when the summer rain just keeps on pouring, turn it into a fun adventure. Get everyone bundled up in their raincoats and waterproof shoes. Grab your umbrellas and go outside. Splash in the puddles and have some care-free fun. Wrap up your adventure indoors with a bowl of soup and some good conversation after you've all changed out of your wet clothes.
Baking Cookies
Create some classic rainy-day fun in the kitchen. Whip up a batch of cookies. Pull out your favorite recipe and let the kids help, from baking and decorating gingerbread people to using cookie cutters for more interesting shapes.
A rainy day doesn't have to be gloomy. Create some indoor sunshine with a little imagination and make some happy memories.
---
This entry was posted in Toys on March 27, 2018
As kids grow, their interests and abilities change and grow. If you've ever looked at your child's toys, you've probably noticed. With springtime in full bloom, it's a great opportunity to finally get those cleaning tasks done that have waited all winter. This is a good time to go through the indoor and outdoor toys and pick out the toys your child has outgrown or never uses.
There are many factors to help you to decide which toys should stay and which ones should go. Remember that any toys your children are attached to – even if they don't play with them anymore – could cause a forlorn whine when you suggest that it's time for the toy to go. You'll need to decide whether to tell them it's time to clean out the toys or to do it yourself when they're not around. Either way, getting things organized is the first step. Corral the indoor toys, and track down the ones used for outdoor play. If they're scattered and disorganized, find a better way to store them in bins, shelves and boxes.
Now comes Step Two which is deciding which ones should stay and which ones should go. Separate all of the toys into three piles: keepers, giveaways and lost causes. The keepers may need to be cleaned up for more playtime or passed on to a younger sibling. Toys that you won't be keeping for any of your children can go to charity or a friend's kids. There are some toys that aren't fit for any child of any age. Games and toys with missing or broken pieces are the best candidates for the discard pile for lost causes. Recycle what you can, and appropriately dispose of the rest.
Here are a few key areas to consider when deciding:
Interest:
Kids naturally lose interest in toys that are geared towards a younger developmental stage. If they haven't been used in more than a year, your child has lost interest.
Size:
Lack of interest isn't the only indicator that your child has outgrown certain toys. Ride-on toys that no longer fit your child's arm's reach or can't be adjusted to the right foot-pedal length are too small to use. Put these toys away for another child to use if they're still in good condition. If you don't have other kids or close family friends, these can be donated to charity.
Condition:
The favorite toys receive the most attention. They sometimes have that loved-worn look about them, like the teddy bear with a missing eye and a shriveled arm. If a toy is still in good condition to play with safely, put it in the keeper pile or the giveaway pile. Otherwise, it's time for it to go away. You may want to put collectibles and the top favorites into a bag in the attic for when your children are grown and will appreciate them once more.
Outgrowing toys is part of growing up. While it's sad to see some toys go away with spring cleaning, they can sometimes go to a happier place. It's always a good idea to take time to get organized and make room for more age-appropriate toys.
---
This entry was posted in on March 06, 2018
St. Patrick's Day is coming.  Whether you're of Irish descent or not there are generally a lot of fun events for adults and even for kids to join.  So, how can you make this festive holiday a wee bit of fun for you and your family?
Get Crafty
There are plenty of crafts to help get your children excited for St. Patrick's Day, and ways to include them in decorating your home for any festivities.  
- St. Patrick's Day Rainbow in a Jar:  You have to make your way through the rainbow of Skittles to find the Leprechaun's gold!  This can help your child learn about the colors of the rainbow, and they can sneak a few Skittles while making this special treat.
- Stained Glass Rainbow: All you need is some tissue paper, wax paper and glue.  Tear up colored tissue paper (colors of the rainbow), tear off a sheet of wax paper.  Spread glue on the wax paper in the shape of the rainbow and then place tissue paper on the glue. Use a second piece of wax paper covered with glue and place over the top of the rainbow and your stained glass rainbow is complete.
Get Active
It depends on where you live, but there are often times a lot of fun activities for families on or near St. Patrick's Day.  There are parades that showcase Irish Step Dancing, local Irish groups play music, and lots of great Irish food.   Some of the most famous and fun activities include:
- Dyeing the Chicago River Green: If you live in Chicago, then head on to the Chicago River to see 45 pounds of vegetable dye get poured into the river to turn it a festive green color for the day. 
- Leprechaun Hunts: Cities like Philadelphia and Chicago host Leprechaun hunts for children, in which children and parents participate together in a scavenger hunt to find Leprechauns and win prizes!
- Leprechaun Dash: This is a special race as part of the Shamrock Marathon series, in which children ages 6 months to 5 years old can participate in their own race.  A 26.2 yard run, as these dashers reach the finish line, they are celebrated with a finishers medal, cheers from the crowd and more.  It's a great way for young runners to get excited about St. Patrick's Day, or to participate with their parents.
Get Cooking
We're going to stick to a few sweet treats for St. Patrick's Day, however, there are most definitely plenty of savory recipes that you can introduce your children to.  Corned Beef and cabbage, Irish Soda Bread are two of the better known Irish dishes for St. Patrick's Day.  But, let's have some fun with these tasty treats:
- St. Patrick's Day Crispy Treats: Your typical Rice Crispy Treats get a twist, add a little bit of green food dye to the melted marshmallows and turn these into special green treats.  (Get extra creative, and use a Shamrock cookie cutter to make them in the shape of Shamrocks).
- Green Candied Popcorn:  Add a little bit of butter, sugar, corn syrup, green food coloring and more to spice up a normal bowl of popcorn.  Surprise your kids with their very own green popcorn.
May the luck of the Irish be on your side this St. Patrick's Day and we hope that you're able to enjoy a fun-filled green weekend with your family.
---
This entry was posted in on February 14, 2018
In honor of Valentine's Day – we are going to provide you with a few date ideas that get you and your significant other out and active.  These ideas are great for Valentine's Day Weekend or just a surprise date.
Hiking
It may depend on your location, but getting out and going for a hike is a great date.  You get some fresh air; use some team work to help each other through the difficult sections.  You can even pack a picnic lunch and enjoy the scenic view as you make your way up the mountain or around the lake.  You'll break a sweat, but your date will appreciate the thought.
Ice Skating
What better excuse to hold your dates hand than to go ice skating.  Even if you're not a professional and keep falling, your date will want to help you up (or vice versa).  Best of all, afterwards you can cozy up afterwards with a nice cup of hot cocoa. 
Dance Classes
It's not Dancing with the Stars but taking a class at your local dance studio could be a great date.  If you take a salsa class you get to be extremely close to your date, give them a twirl, and then bring them back close to you. It seems like a win-win situation for any date.
Cooking Classes
So this is not your typical active date, but it is outside of the box.  It's always fun to learn something new and you and your date can learn to cook a new dish.  Check out a few locations that offer cooking classes and pick one that will introduce you or your date to a new cuisine.  Working together to create a meal can be more romantic than splurging on an expensive dinner.
Run a Race
Many cities offer a Valentine's Day/Lovers race where you and your valentine can team up and run the race.  You get in your exercise and can celebrate together at the finish line.  Best of all, running can help relax you and relieve any stress you may have around Valentine's Day. 
Kayaking
This is another great date for some teamwork, especially if you get a 2 person kayak.  You can work together, talk the entire day and you can even pack a lunch and post up on a beach for a nice romantic lunch.  You can enjoy the views, talk and enjoy the silence of the outdoors together.
Paintball
This is definitely outside the scope of a typical date, but for the extreme couple who enjoys a little bit of friendly competition and an adrenaline rush, this could be a great date.  Just be careful to not shoot your partner too much!  You can team up together and take on another team and see who wins at the end. 
Golf
Nothing like walking 18 holes with your date to spark up a great conversation!  Plus, what if they need a little help with their swing? You can help them, get a little close and show them what the proper golf swing looks like.  It's a relaxing date that includes a bit of exercise, some (hopefully) sunshine, and lots of YOU time.
Arcade
Adult arcades are just as fun as regular arcades were when you were a kid.  Nothing beats playing a game of Skee Ball, or basketball to see is the best! You can hop on a racing game, try to win tickets, and—since it's for adults—you can grab a drink at the bar.  Either way, you'll be running around the arcade, playing games and collecting tickets like a little kid again. It's fun and you can combine tickets to get your date a cute gift!
There are plenty of ideas out there to help get you and your date out and active.  It doesn't have to include sweating, or getting in a work out.  Working together, communicating, having fun and doing something outside of the box will make for a memorable date.  What kind of active date would you suggest to add to our list?
---
This entry was posted in Fitness on January 10, 2018
As the majority of the country just experienced a "polar vortex" and has been dealing with frigid temperatures – it definitely can be a challenge to drag yourself to the gym.  There is no need to bundle up, trek through the snow (or freezing temperatures) to your local gym; you can get a good workout at home until the weather takes a turn for the better. 
Cardio               
AskMen suggests running up and down a set of stairs in your home.  This is a great way to increase your heart-rate without bearing the bitter cold.  If you invest in a jump-rope, that's another way you can get your cardio in.
If you have oversized boxes that you are able to stand upon (the higher the better) then use it for step-ups. If you're able to do one (or all) of these for 30-60 seconds hard, then rest for a minute and repeat.
Weight-Training
Legs: If it's too cold to go outside, and you have too many chores to get done around the house, that's okay.  While you're washing the dishes, do some standing calf raises.  See if you can lift and lower your heels for as long as possible, try to start with 20 a day and increase a little each day. You get a work out, and your dishes are now clean.
It's easy to do lunges at home.  Find a space where you can stretch out a bit or, if necessary, you can use your hallway.  Go back and forth a few times and get a really good stretch. 
Abs: If you could add one piece of "furniture" to your home, it should be a fitness/exercise ball. Whether you're watching TV or doing some work at home, if you can manage to sit on an exercise ball you are giving your abs a workout.  For more of a challenge – try doing some sit ups using the exercise ball.
If you do not have an exercise ball available, then see about doing a few oblique crunches.  You'll work out your abs and you can even do it while watching TV at night, or in the morning before you get ready for the day.  
Arms: If you do have an exercise ball at home, then a simple solution is to do a few sets of push-ups on the exercise ball.  In addition to working your upper body, you will also sneak in an ab workout.
Doing some light weight-lifting is another way to get fit at home.  Whether you have a few light free weights, or if you just want to use household items such as milk, can of corn, or laundry detergent.  Do a few reps and start sculpting your arms.
It is important that if you're not going to venture to the gym in sub-zero degree weather, that you still manage to keep up with your fitness.  There are definitely more options for workout routines at home, what is your favorite at-home fitness tip?
---
This entry was posted in Toys on December 04, 2017
It's no secret that active people live healthier - and often longer - lives. Since you want your loved ones to not only stick around for as long as possible, but enjoy and make the most of their lives, active gifts are the ultimate way to show you care.
There's an active present appropriate for everyone on your list. Just make sure the gift matches up to their interests and fitness level. An avid runner might love a new pair of sneakers, while someone just getting into fitness might be interested in a step-monitoring device to help them on the journey toward better health.
From improving wellness, to encouraging fun and adventure, here are a few reasons why you should consider active gifts for your loved ones this season.
1) They're fun. Kids love anything that gets them moving, and adults savor the chance to let loose, play, and relax. No need to wait – active gifts are often the first ones put to use on Christmas morning, with outdoor walks and adventures frequently part of holiday family traditions. Table tennis sets, and bikes, scooters, and other toys all make great active gifts.
2) Active presents send an inspiring message. Regular physical activity can significantly reduce the risk of heart disease, diabetes, high blood pressure, osteoporosis, and even cancer in your loved ones. Encourage them to improve their lives with functional and fun presents that can make a momentous difference in their wellbeing.
3) Movement makes happiness. Exercise helps us process and handle stress more effectively. Regular movement puts things in perspective, and helps people see the world in a larger scope. Setting and achieving fitness goals creates a confidence that transfers over to many others areas of life – from school, to work, to personal relationships. Give a gift that will guarantee greater life satisfaction.
4) Activities make memories. Items that involve activities are the best presents, because they give something that's hard to lose or top – memories. Active gifts give families and friends ways to bond, explore, and grow together in good health.
5) They're unique. It's easy to forget who gave you a mug or a gift card, but you'll always remember who gave you a fitness gadget or toy you use at least once a week.
From outdoor games to exercise equipment, help your friends and family reach their optimum levels of health and happiness this holiday season with gifts from KETTLER USA that incite adventure, inspire growth, and foster confidence. It's no contest: active gifts are the best!
---
This entry was posted in Table tennis on November 13, 2017
Growing up, each of my siblings received their gifts under the Christmas tree, as did I. But, then there was always a pile or a big box hidden away somewhere else that was from Santa and was for the whole family to enjoy, even my parents! We never knew what to expect, was it a new board game or a pack of movie tickets or in my wildest dreams, a trip to Disneyworld. But, every year without fail, we received a family gift. It was a great way for all of us to come together at the end of the day and really enjoy the holiday together and celebrate what Christmas is all about, spending time with family, not about what Santa may have left under the tree.
Here are some great gift ideas that will surprise your family and provide hours of fun!
Nothing says holiday cheer like a friendly game of table tennis. If you're like my family, then this ultimately turns into a bracket style challenge, where winner takes all! It's a fun way to be competitive, have fun and cheer each other on. You can get an indoor table or an outdoor table (depends on your home, location and preference), but either way, you can have hours of fun playing singles or doubles against the whole family.
Board Games
It may seem a little old-school considering there are so many different video games or apps out there that help foster family-time and game nights, but breaking out the good old-fashioned board games for a family fun night can be a great way to disconnect from technology and have fun with the whole family. From trivia games to word games, there are so many different options out there. So if Monopoly gets too competitive for your family, opt for something a little more light-hearted.
Just Dance Games
So while we just said that it's great to disconnect from video games and technology, there are some really fun games that will not only be fun for the whole family, they're actually really great ways to stay active while being stuck indoors during the cold winter months. Just Dance lets the whole family show off their dancing skills, and video play-backs definitely provide some great laughs. See who has the best moves in the family!
Popcorn Maker & DVD set
Movie nights are always fun! And while going out to the movies is always a great time, it can get a bit pricey for the whole family. So, why not bring the movie-night experience home. Get a cool popcorn maker, pick up different types of movie candy and then choose different DVDs for a full-on movie marathon. You can even pick your favorite childhood movies to share with your kids, they'll love watching the oldies. 
---
This entry was posted in Toys on October 02, 2017
Making sure your kids grow up healthy and fit is every parent's top priority. As important as encouraging active healthy behavior is, finding a balance between work, family, school, and physical activity can be tough. Setting a healthy example and getting kids excited about getting active is a good place to start. Here are some tips and fun ways to engage your kids in physical activity.
Bike Ride
Bike rides can be relaxing and also a great strengthening and aerobic workout. Riding a bike works all the major muscles groups of the body.
At KETTLER we make bicycles of all types and sizes to best suit each member of your family.
Weekly Sports Nights
Whether it's Tuesday night or Sunday afternoon, get the whole family in the backyard or at a neighborhood park for a ball game. Take turns choosing what sport or game to play that week. From soccer to table tennis, you'll get a good workout in and make lasting memories with your family.
Charity Runs
Give back to community while getting active. Team up with your children for a fundraising race. Walk or run races and have fun training with fitness games and challenges in the weeks before an event. Children will enjoy seeing their progress from race to race and earning medals and certificates.
Family Fitness Classes
Swimming, biking, canoeing and hiking are great in the summer and into the early fall, while sledding, ice skating, building a snowman or skiing are winter fun. Depending on the season find fun mini adventures your family can plan and look forward to. Many gyms and community centers offer family fitness classes designed for parents and children. Or create your own backyard regiment on the swing set or in the grass.
Even chores around the house or something as simple as a walk around the neighborhood can be turned into fun games and a chance to get active, even if only for a few minutes. Nature walks are great in any season. For fall make a game out of catching leaves on a windy day - see who can catch the red, yellow, and green leaves. Let the kids help out in the yard by having them rake the leaves into piles – then have fun jumping in them or taking turns covering one another in leaves. 
---
This entry was posted in on July 17, 2017
Now that summer is officially here it is important to take a few extra precautions when enjoying your patio or playground. Here are a few options to protect you and your family from bugs and the sun's harmful UV rays.
Lanterns – UV light traps or other lanterns attract and kill a number of irritating insects, including mosquitoes.  These devices come in a range of sizes and styles to best suit your environment and needs. Lanterns are an easy way to rid your patio area of bugs without using a chemical repellent.
Citronella Oil – Burning citronella candles or torches on summer nights can also help repel mosquitos away from your patio area. Citronella oil is an all-natural insect repellent and is non-toxic to humans and animals. Burning citronella oil will not only help to keep away mosquitoes and other insects but is a safe option that will look nice when lighting when up your patio.
Bug spray – Chemical insect repellent sprays continue to be a popular and effective way to prevent bug bites and deter mosquitoes while enjoying the outdoors. When using insect repellents keep in mind the following:
Always read instructions, apply accordingly, and only as often as recommended.
Do not use any repellent that has not been approved by the EPA.
Do not apply to mouth, eyes, cuts, or sunburned skin.
Wash off repellent when you go inside.
Spray repellents in open areas to avoid breathing them in.
Never use insect repellant on children younger than 2 months.
Additional guidelines when using insect repellants.       
Natural Repellants – There are many other natural replants available for those who are wary of using chemical sprays. When applied thoroughly these natural substances can be just as effective in protecting against bugs:
Lemon Eucalyptus Oil
Cinnamon Oil
Rosemary Oil
Castor Oil
Peppermint Oil
Lemongrass Oil
Other simple ways to repel mosquitos and other bugs include:
Avoid wearing dark colored clothing.
Eliminate any standing water around your home.
Avoid wearing floral fragrances, hair products, or scented sunscreens.
Wear loose fitting clothing.
Grow plants with insect repelling qualities such as rosemary, basil, horsemint, lemon balm and rose geraniums.
Sun protection - Seeking shade from an umbrella, tree, gazebo, or any other area is a refreshing way to limit your exposure to the sun. Umbrellas and other shade makers let you enjoy your patio and the fresh air without worrying about potential skin damage. When you or your children are going to be in direct sun for any amount of time applying sunscreen is the easiest and most common way to protect against harmful UV rays. Always read the labels when choosing a sunscreen and look for ones with broad spectrum protection. Sunscreen with a SPF of at least 30 or higher is recommended by the American Cancer Society. Apply sunscreen 20 to 30 minutes before exposure to allow the skin to absorb it and reapply every two hours. Sunscreens are available in many forms such as lotions, creams, ointments, sprays as well as in waterproof varieties.
More tips for sun safety:
Wear sunglasses with UV protection.
Encourage children to play in the shade, wear protective clothing and reapply sunscreen regularly.
Use cosmetic products that offered added UV protection.
Wear a wide brimmed hat.
Limit direct exposure to sun during 10 a.m. and 2 p.m. (peak UV radiation hours). 
---
This entry was posted in Patio on June 19, 2017

Your favorite summer holiday is approaching – happy Fourth of July! Fourth of July is a fantastic time to celebrate freedom, family, friends, and all of our fortunes, all while enjoying delicious homemade food in the backyard.
Many people host backyard parties or barbeques on the Fourth of July. With dozens of close friends coming over and grilling wonderful food, you want your patio space to add to the festive ambiance. Below are a few tips for creating a one of a kind space for your Fourth of July party this year.
- Do basic cleaning and maintenance. Have you cleaned your patio yet this summer? If not, take this opportunity to do a thorough cleaning of your patio space. Remove all of the furniture before you begin. Start by sweeping away all outdoor debris and leaves. Then hose the area down with a light detergent and water.
- Invest in some festive decorations. Nothing says the Fourth of July like red, white and blue streamers, candles or lights. There are many options when it comes to purchasing Fourth of July decorations, but you can also make your own, from holiday placemats, to American flag candles, to bottle centerpieces.
- Reexamine your layout. Think about the type of gathering you're planning and whom you're inviting. What kind of seating would be ideal? You might want to pull in extra chairs, rearrange your seats so they're scattered into small lounge areas, or maybe even do away with most of your chairs, only leaving a few behind for people who might get tired standing. The options are endless, and you'll be amazed at the effect seating can have on ambiance.
- Set up your music. Think strategically about where you're going to want to set up your speakers, etc. Weren't planning on having music? Think again! Music is essential to large outdoor gatherings and can turn a casual get-together into a festive party people will be talking about for the rest of the summer.
Decide on a dining style. How are you planning on serving your guests? Will there be a walk-up buffet style table or will snacks be scattered throughout the patio on small trays? Will you be serving guests individually? There is no right answer – just something to think about as you plan your outdoor gathering.
Even though we want to help you be the perfect host this Fourth of July – don't forget to kick back, relax and enjoy the holiday a little bit yourself as well. We hope you have a wonderful holiday filled with the love of your close friends and family. What a great way to start the summer season!
---
This entry was posted in Patio on May 24, 2017
Memorial Day is the official kick-off for summertime barbeques and outdoor parties. This weekend might even be the first time you've gotten to enjoy your patio all year. Celebrate the long weekend by having a patio get-together. Here are a few tips to throw on awesome Memorial Day party this weekend:
Prep
- Plan your guest list, make sure you have enough space and seating for everyone invited
- Send out invites
Clean off your patio. De-clutter, dust off tables and chairs, and clean the grill.
- Plan your menu and make a shopping list
- Check the weekend weather.
Set-Up
- Bring out folding chairs for more seating room.
- Have an umbrella or canopy to create shaded areas.
- Clearly label trash and recycle bins.
- Have sunscreen available for guests.
- Have a designated area for yard games.
- Have a summertime playlist picked out for background music.
Decorations
- Red, white, and blue napkins, cups, and plates.
- Use fresh flowers from your garden as centerpieces.
- Illuminate your patio with hanging lights, paper lanterns, or tiki torches.
- American flags, streamers, and balloons are all inexpensive ways to liven up your patio for the party.
Food & Drinks
- Keep the menu simple and classic – BBQ, hot dogs, and hamburgers are loved by all. Have vegetarian options on hand for anyone who might prefer
- Have fruit, veggies, potato salad, coleslaw, chips and dip for sides and appetizers.
- Stock the cooler and bar area with plenty of ice and an array of refreshing adult beverages as well as sodas, water bottles, and lemonade for kids.
- If possible keep food inside, or under an umbrella to keep out bugs and to keep fresh.
- Buffet style set-up works best. Have napkins, straws, drinks and condiments at a separate table.
Relax and enjoy the company of friends and family this Memorial Day weekend with a laid-back patio party! 
---
This entry was posted in Table tennis on May 01, 2017
Barbeque season is here at last! Nothing beats enjoying warm weather with friends and feasting on a scrumptious plate of freshly cooked and perfectly seasoned food. For a surefire way to make new friends in the neighborhood, why not throw an outdoor barbecue?
After catching up over beers and food, someone often calls for a fun after-dinner activity or game. While you don't have to plan a detailed schedule, it's ideal to have a few group activities in mind to keep the party going. Here are some of our favorite games that both kids and adults will want to play.
Table tennis. Table tennis is loads of fun for all ages. (Plus, arm strength, teamwork, and coordination are just a few of its many health benefits.) Our outdoor table tennis tables invoke just what every BBQ needs – fun, laughter, and a spark of friendly competition!
Outdoor chess. This will set your party above the rest. Life size outdoor chess pieces made of resin are sturdy but easy to lift. Get swept away with the strategy and smarts involved in this classic game.
Cornhole. Easy to play with minimal setup required, cornhole is a blast without being too intense or competitive.
Card games. Sure, you can play these games inside too, but they're more fun at a BBQ with yummy cool beverages and plenty of sunshine. Here are a few of the most fun card games around.
Hide and seek. If the adults need a break (for drinks, or just to rest their feet), this is a great one for the kids to play by themselves. Just make sure to set limits for how far they can go and check every few minutes to make sure everyone is getting along.
Capture the Flag. Divide into teams for this adventurous game suitable for all ages. Capture the Flag is an excellent choice for breaking the ice amongst neighbors who might not know each other well.
No matter what games you decide on, remember a few basic rules to ensure everyone has a good time: 1) If you choose an active game, make sure you have cards or something more casual and relaxing set aside as a backup for people who don't want to play, and 2) Keep it friendly! Remember a game is just a game, and it's more about having fun, bonding, and enjoying the warm weather than it is about snagging a victory.
---
This entry was posted in Table tennis on March 28, 2017
With beautiful springtime weather comes the chance to spend quality time together with the family. It's an opportunity for kids to learn new things and for parents to get to know their children better. It's also a good time for siblings to bond. Outdoor activities offer exercise, fresh air and fun. Depending on the ages of your kids, you can take them to the park, a nearby lake or just hang out in the neighborhood. Plan a time when everyone is available to go for a bike ride, a hike or to just try something new. A weekly outing can help you all build better friendships with each other while taking out some time for fun, fitness and leisure. 
 Biking
Going for a bike ride is a great way to get started on spring outdoor activities for the family. Adults and kids can ride their bikes together. Children over the age of three can ride on their own bikes or trikes. Little ones can ride in child carriers on the back of Mom or Dad's bike. If your children don't know how to ride yet, this could be the perfect time to teach them how. Look for local trails and bike paths. If you have a bike rack and an SUV, you can go for a drive to the nearest state park, pack a picnic lunch and bring your bikes. For a smaller adventure, take a ride to the library, the store or the park.
 Hiking
Going for a nature hike is another way to enjoy the spring weather and each other. Visit a park or explore the neighborhood. The important thing is to engage in conversation and perhaps sneak in some learning. Bring a pair of binoculars and talk about different types of leaves, flowers, birds and other creatures you see on your outing.
 Kayaking
Kick it up a notch with a wet and wild adventure. Learning how to kayak is a skill that kids and parents can use throughout their lives. It focuses on balance, coordination and a love of adventure. Pack the life vests and make sure that your children can swim before taking them kayaking.
 Table Tennis
If you want to stay close to home, table tennis is a great way to spend some family time. An outdoor table tennis table on the patio is accessible and a great source of exercise. Older children can also grab their table tennis paddles and play together without supervision. 
---
This entry was posted in on March 13, 2017
St. Patrick's Day is coming.  Whether you're of Irish descent or not there are generally a lot of fun events for adults and even for kids to join.  So, how can you make this festive holiday a wee bit of fun for you and your family?
Get Crafty
There are plenty of crafts to help get your children excited for St. Patrick's Day, and ways to include them in decorating your home for any festivities.  
- St. Patrick's Day Rainbow in a Jar:  You have to make your way through the rainbow of Skittles to find the Leprechaun's gold!  This can help your child learn about the colors of the rainbow, and they can sneak a few Skittles while making this special treat.
- Stained Glass Rainbow: All you need is some tissue paper, wax paper and glue.  Tear up colored tissue paper (colors of the rainbow), tear off a sheet of wax paper.  Spread glue on the wax paper in the shape of the rainbow and then place tissue paper on the glue. Use a second piece of wax paper covered with glue and place over the top of the rainbow and your stained glass rainbow is complete.
Get Active
It depends on where you live, but there are often times a lot of fun activities for families on or near St. Patrick's Day.  There are parades that showcase Irish Step Dancing, local Irish groups play music, and lots of great Irish food.   Some of the most famous and fun activities include:
- Dyeing the Chicago River Green: If you live in Chicago, then head on to the Chicago River to see 45 pounds of vegetable dye get poured into the river to turn it a festive green color for the day. 
- Leprechaun Hunts: Cities like Philadelphia and Chicago host Leprechaun hunts for children, in which children and parents participate together in a scavenger hunt to find Leprechauns and win prizes!
- Leprechaun Dash: This is a special race as part of the Shamrock Marathon series, in which children ages 6 months to 5 years old can participate in their own race.  A 26.2 yard run, as these dashers reach the finish line, they are celebrated with a finishers medal, cheers from the crowd and more.  It's a great way for young runners to get excited about St. Patrick's Day, or to participate with their parents.
Get Cooking
We're going to stick to a few sweet treats for St. Patrick's Day, however, there are most definitely plenty of savory recipes that you can introduce your children to.  Corned Beef and cabbage, Irish Soda Bread are two of the better known Irish dishes for St. Patrick's Day.  But, let's have some fun with these tasty treats:
- St. Patrick's Day Crispy Treats: Your typical Rice Crispy Treats get a twist, add a little bit of green food dye to the melted marshmallows and turn these into special green treats.  (Get extra creative, and use a Shamrock cookie cutter to make them in the shape of Shamrocks).
- Green Candied Popcorn:  Add a little bit of butter, sugar, corn syrup, green food coloring and more to spice up a normal bowl of popcorn.  Surprise your kids with their very own green popcorn, and view the full recipe here.
May the luck of the Irish be on your side this St. Patrick's Day and we hope that you're able to enjoy a fun-filled green weekend with your family.
---
This entry was posted in Fitness on February 22, 2017
No matter your fitness goals, there'll be times you don't feel like leaving the house. The trek down the stairs, to your car, and to the gym will seem unnecessary and unmanageable.
Having a few pieces of simple exercise equipment at home is essential to maintaining serious fitness goals. If you don't make exercise convenient to your lifestyle, it's not likely to happen.
That's why we love fitness balls at KETTLER USA. With this one fun and colorful tool on hand, you can get a full body workout without leaving your living room.
Below is a quick fitness ball workout we guarantee will make you sweat.
Warm up. Sit down on the exercise ball. Spread your legs apart in front of you, knees bent, and do some sit ups while balancing on the ball using your feet as anchors. Do this 100-150 times.
Squat and reach. Stand up with your feet shoulder width apart. Bend your knees slightly. Make sure your back is completely straight and that your arms are raised out parallel to the floor in front of you. Rotate your hips and reach with the ball held between your hands to the left. Hold for 10-15 seconds, and then switch to your right. Do each side 10 times.
Ball squeeze squat. Stand up with your legs spread, knees slightly bent. Place the fitness ball between your legs. Squat down until your knees are at a 90-degree angle, and squeeze the ball as many times as you can – aiming for at least 20-30 short consecutive squeezes.
Crunches. Sit down on the ball with your feet in front of you and hip-width apart. Cross your arms across your chest and lean back slightly, keeping your back perfectly straight. Hold for three seconds and then move back up. Do 2-3 sets of 20 crunches each.
Fitness ball push-up. Lie facedown on the ball with your hands and feet on the ground and stomach on the ball. Carefully walk your hands forward until your shins are on the ball and you're in a push-up position. Slowly lower your upper body down until your elbows are at 90-degree angles. Lift yourself back up and repeat 10-15 times. If you're up for it, rest for a few minutes, and then do another set, this time holding yourself down at the bottom for three seconds per push-up.
Fitness balls are an ideal exercise tool for anyone who loves working out at home or on the go. You can take basic exercises to whole new levels, and keep your muscles guessing and challenged. Plus, fitness balls are compact and hardly an eyesore! When you're done with your workout, just move your ball off to the side. An even better idea: use your exercise ball as a chair in your home office.
---
This entry was posted in Fitness on February 06, 2017
You take calls, send emails, consult your employees, sit in conference rooms for what seems like endless hours a day, and probably eat every meal at your desk. You're working on a career you're proud of, but your busy schedule makes it hard to fit exercise into your days.
We know it's challenging to stay active when you're juggling multiple priorities, but your busiest times are when it's most importance to make an effort to move more.
Exercise not only improves your overall mental health and happiness, but functions as a great stress reliever. Anxious about a meeting tomorrow? An hour break on a cardio machine could be just what you need.
If you're successful in business, but struggling with fitness, here are a few of our favorite and most efficient exercises you can do on the go.
1) Simple free weight exercises. Basic moves like the triceps extension and bicep curl are classics for a reason: they're easy to do and highly effective, plus a set of free weights shouldn't set you back financially.
2) Medicine ball routines. Medicine balls are small exercise balls (around 14 inches) that come in a variety of weights – you can choose the one most suitable for you based on your level of fitness. Medicine ball exercises work your whole body, especially your core.
3) Squats. Squats can be done anywhere, as long as you're wearing flexible clothing you can move in. There are many different types of squats other than the classic variation that you can incorporate into your routine on the go and get a stellar workout with.
4) Pushups. When it comes to fitness, sometimes it's best to go back to the basics. You can always make your pushup form better and pushups are one of the best ways to work your upper body with zero equipment – meaning you can do them anywhere.
5) Innovative floor ab work. Sure, situps are easy to do on the go, but they can get boring. Explore different ways to work your abs to exhaustion using only your body. No fancy gadgets or equipment needed!
6) Work out in your chair. It's no secret that we love using exercise balls as chairs at work. Keep your muscles guessing and engaged all day long.
7) Midday walks or runs timed with your breaks. Working all day without taking breaks can affect your health and the quality of your work. Schedule breaks throughout the day that can also function as exercise. A couple of fifteen minute brisk strolls around the building can burn a surprising amount of calories and clear your head for important meetings.
A vibrant professional career can be rewarding, fun, and propel you forward in achieving happiness. But you can't get there without simultaneously working on your health.
With many effective exercises involving zero equipment, there's no excuse for letting your wellness slip your mind. Plan your workouts like they're mandatory meetings – we know you'd never miss one of those!
---
This entry was posted in Fitness on January 26, 2017
In the beginning of the year, gyms often see as high as a 30 to 50 percent increase in visitors. New Year's Resolutions to get stronger, fitter, and skinnier often prompts millions of Americans to adjust their eating habits and start moving more. Most sign up for gym memberships that they'll likely stop using come February, only to start the cycle all over again come the next New Year.
Out of sight, out of mind. The best way to ensure you get and stay in shape this year is to make it as easy as possible. Having a well-rounded gym in your home is the ultimate way to meet your fitness goals.
There's no excuse. An in home gym never closes. You can work out whenever you please – whether it's 6 AM before work, 5:30 PM before dinner, or midnight when you're done with your day. Plus, no commute time makes it easier to fit fitness into your schedule.
Maximum efficiency. You won't have to suffer through unwanted small talk, change and shower in the locker room, or wait your turn for the best machines.
You'll ooze confidence. A lot of people are intimated by going to the gym because they're scared they'll be ogled, or judged for being in poor shape. This often affects women the worst – 14% of women polled in a survey said they were intimated by men looking at them at the gym, and only 8% said they'd feel comfortable asking someone how much longer they were going to take with a machine. Intimidation and degradation have no place in your journey towards better health.
You can host fun workouts. They say it's best to work out with a buddy who can keep you motivated and hold you accountable. Set up a laptop or TV and catch up on your favorite shows with no distractions. Gossip or chat about your days in privacy.
Ownership. Gym equipment can be unpredictable, inconsistent, and with hundreds of new people coming in and out of gyms during the months of January and February, often broken or damaged. It's hard to get a hold of and stick with a new workout routine without getting distracted and discouraged during this rush time. Skip the crowds and take ownership of your workout. With outdoor runs and walks, affordable cardio equipment, weights, and workout videos, there's no fitness path you can't conquer with a home gym.
---
This entry was posted in Fitness on January 12, 2017
With snowy roads, an icy windshield, and low temperatures, there are times when it's simply too cold to leave the house to exercise.
But being stuck all day without moving farther than the distance between the couch and the kitchen isn't great for your health or happiness.
Everyone should have a few workout "tricks," aka exercises that don't require leaving the house, up their sleeve for inevitable poor weather conditions.
You'll be surprised how hard these seemingly simple exercises are – you might find them even more effective than the regular workouts you do at the gym!
1. Squats and lunges
Move to the longest room in your house/apartment for this. Step across the room through alternating lunges. When you reach the other side, turn around and repeat. Follow this set of lunges with a set of ten squats, before beginning your lunge rotation across the room again. Do four total sets of lunges and four total sets of squats.
2. Free weights
It's imperative to have a set of free weights on hand in your house. They're affordable, easy to use, and effective. One option is Gymnic's Heavymed 500 – these colorful weights are pre-filled with water! As far as how to use your free weights, here are 5 upper body exercises with free weights, and a basic whole body free weight workout for beginners. Free weights give you tons of options for getting a tough workout.
3. Jump rope!
This workout will take you back to your childhood, get your heart racing, and work your legs to the maximum. Try this ten-minute jump rope workout to tone your upper body and legs.
4. Push ups and sits ups.
Listen to your favorite upbeat music while rotating between sets of different types of push ups and sit ups. Have an exercise ball handy? Make these moves even more challenging with its unstable surface.
5. Have a dance party.
This one's our favorite: break out your loudest tunes and show off your craziest moves (even better if you have a friend or significant other join you). You'll be surprised how many calories you can burn having this much fun without leaving the house.
Bad weather makes you only as lazy as you let it. Enjoy your favorite TV shows and warm beverages on snow days, but don't forget to stay active. Icy roads aren't an excuse to forget your fitness goals. We promise these five fun exercises will make you sweaty and proud – with a smile on your face!
---
This entry was posted in on December 29, 2016
A lot of us spent Thanksgiving until now indulging in our favorite treats, takeout meals, and Netflix shows. January (and its inevitable healthier choices) was viewed as a chore in the far-off, distant future.
But guess what? It's that time again! Take a few moments before the month ends to pick out your New Year's Resolution, and formulate a plan for how to make it stick. Here are seven of the most common resolutions, with a few reasons why they might work for you.
Eat a healthier diet. Thanksgiving and Christmas bring out the worst in us when it comes to healthy eating habits. Cleaning up your diet can help you lose weight, feel better, have more energy, and even have better relationships.
Be more active and get in shape. Regular exercise substantially improves our ability to handle the stress of everyday life, and view our circumstances with a fresh and positive outlook. Physical and mental health benefits aside, finding and enjoying a physical activity that works for you is also a lot of fun.
Cut back on alcohol. Excessive drinking increases your risk for all kinds of health issues: high blood pressure, liver disease, stroke, cancer, depression, and more. The list goes on and on.
Spend more time with your family. The holiday season reminds us how much we enjoy spending time with our loved ones. A goal to share more hours with the people who mean the most to you is unmatched in importance.
Save more money. Cutting back on the money you spend socializing and eating out at restaurants can significantly pad your bank account (not to mention, improve your health), giving you the funds to try new activities, travel, or check out a new art or fitness class.
Read more. Some studies show people who read are happiest. Escaping into a story tends to put our problems in prospective. Plus, who doesn't enjoy curling up with an intriguing mystery novel on a Sunday afternoon?
Reduce your social media time. Social media can help us stay connected to friends, colleagues, and family members, but the constant news updates and messages can sometimes be too much. Getting less "tuned in" might be a healthy goal for you.
It can be hard to make major lifestyle changes, but it can also be exciting. Don't get bummed about what you're giving up – get pumped about what you're gaining. This is a chance to create a newer, better, and happier you. Here's to an outstanding – and renewing – New Year!
---
This entry was posted in Toys on December 19, 2016
As the holiday approach, many children have a list of toys that they want from Santa Claus, or Mom and Dad. In many cases, they have outgrown or no longer play with some of their toys. This is a good time of year to recycle your children's toys and make room for the new ones that they receive over the holidays. It's also a great way to give back to the community and to keep unnecessary items out of the landfills.
When planning to recycle your kids' toys, survey their forgotten and neglected games, trikes and stuffed animals for gently used or like-new items. Kids' toys that have plenty of wear and love left in them can find a new home for the holidays. Whether it's a charity, the nursery at a local place of worship, a children's hospital or a daycare center, gently used toys and games can be recycled and reborn. Some organizations will help the toys find good homes by giving them to local families, while others put them in their thrift stores to help support the organization financially. If you don't have a favorite charity that accepts gently used toys, consider one of these:
Unused Toys
Every now and then, your child may receive a great toy that is inappropriate for their age or doesn't suit their personality. While these like-new toys can also be donated to the charities mentioned above, Toys for Tots takes new toy donations during the holiday season and throughout the year. These items are given to less fortunate children in the community.
Call Ahead
Check with your local charity to find out if they are, in fact, collecting gently used toys before you head over. Some, such as the Salvation Army or Goodwill may have a truck pick-up service in your area and you can schedule a donation date.
Cleaning Your Toys
Most charities that do recycle toys prefer them to be clean and unbroken with no missing parts. Check their policies. Some will clean and fix toys upon their arrival; others won't.
- Plastic and metal toys can be cleaned with soap and water or household cleaning products. Be sure to dry them thoroughly.
- Plush stuffed animals can be laundered by hand or in the washing machine in a zippered pillowcase or mesh laundry bag on the gentle cycle. Put them in with a light load of clothes or linens in cold or warm water. Hang them up to dry using a skirt hanger or clothespins. Check the care labels, if possible. Avoid putting cloth or plush toys with removable parts, lace, flimsy attachments, Styrofoam stuffing pellets or glued-on objects (other than eyes) into the machine.
As the holidays approach, it's a good time to take inventory of the types of toys that your children have and what is age appropriate for them. Recycling toys that they have outgrown can help the community in many different ways.
---
This entry was posted in Toys on November 29, 2016
From hanging favorite ornaments, to dining on extravagant meals, holiday traditions bind us together and remind us of our roots.
The holidays put family members who might not see each other often in the same house for extended periods of time. Fun can't be scheduled, but it's a good idea to have a mental list of possible entertaining activities ready to go.
Here are a few of our favorite holiday traditions that will keep everyone - from your niece, to your grandpa, to your cousin's shy new girlfriend - entertained.
1. Decorate the house, and take turns picking the music. Share your favorite holiday playlists, while making or unpacking seasonal decorations, like wreaths, ornaments, and strings of lights for the banister.
2. Bake tasty treats. Have every family member old enough to bake bring a recipe. Make a trip to the grocery store as a group to buy ingredients, then have a bake-off, with whoever isn't baking serving as the judge. Once the verdict's been decided, settle down on the couch, with a plate full of delectable goodies, for a viewing of a classic or new holiday movie. Everybody wins.
3. Move your muscles. A family walk or outdoor group activity is the ideal cure for too many cookies. Take a group bike or scooter ride (It's a full body activity!), or push the kids on the swing set to get fresh air and fun at the same time. Physical health is often neglected during the holiday season, so working activity into your routine is essential. Don't forget to bundle up in your coziest winter gear first.
4. Play games! There's nothing like competition to spice up a family gathering. Life, Candy Land, and other board games are fun for adults and kids alike. From beanbag toss, to hide and seek, there are tons of outdoor games the whole family will enjoy if you're interested in heading outside.
5. Unwind. The greatest quality time is unplanned. Take a few minutes this holiday season to sit down with your loved ones, and see where the conversation takes you. Life moves quickly, and the holidays are a rare time we have to scale back, sit still, and enjoy each other's company.
One new tradition to consider: try something new every year. What better way to reconnect and bond with family members than to share a fun, new, and crazy experience?
---
This entry was posted in Toys on November 15, 2016
Black Friday, the Friday after Thanksgiving, is the kick-off of the holiday shopping season where dedicated shoppers go out in search of the best deals and the biggest savings. Most all stores offer some kind of special sale for this unofficial holiday, major retailers open extra early and have their lowest prices and biggest promotional sales of the year. Being prepared with your shopping list and an idea of the stores you want to visit is the key to a successful day of shopping. If you plan on braving the crowds to get a head start on your Holiday wish lists here are a few tips for finding the best deals this Black Friday:
- Plan your shopping trip ahead of time. Do some comparison-shopping the day before to decide what items you want to be on the lookout for and where to go to get the best value.
- Print or cut out ads. Check the shelf price against the advertised price at the register to ensure you're getting the deal you want.
- Know the "early-bird" specials (sometimes called door-busters). These are the deals that have customers waiting in lines before the store even opens. Get there early to take advantage of these incredibly low prices.
- Be familiar with store polices. Check the retailer's website or ask a cashier for information on refunds, returns, cancellations and layaways.
- If possible shop using a single credit card; this makes it safer and easier. Also be sure to get gift-receipts for all your purchases and keep them in a safe place in case you need to refer to them later.  
- Divide and conquer. Getting together with friends and family saves time and ensure you get to all the deals by splitting up your shopping list between a few people.
- Shopping can be exhausting often starting in the early hours of the morning and lasting a few hours. Bring a light snack and a bottle of water to keep you hydrated.
- If you are doing your Black Friday shopping online make sure you have a secure internet connection and purchase only from sellers you know are trustworthy.
- With planning and a bit of luck you can knock-out a good portion of your holiday shopping list while saving money this Black Friday. Have fun and be safe this holiday shopping season!
---
This entry was posted in on November 07, 2016
With the holidays coming up, it's a good time to reach out and give back to the community. This is a wonderful way to get your children or grandchildren involved as well. Check around in your local area to see if there are any special causes or charities that need a boost this time of year. You should be able to get a receipt for a tax deduction from most agencies. Here are a few ideas to get you started in your quest to give back during the holidays.
Volunteer
Many non-profit organizations are in need of manpower and other forms of assistance. You can donate your time at the local food bank, place of worship or homeless shelter. You can also donate blood at a local hospital or through a local blood drive.  
- American Red Cross – There are many opportunities to assist with fund raising or by supporting a blood drive at a location near you.
Recycle Toys
With a potential visit from Santa Claus waiting in the wings, now is the perfect time to go through your children's toys and set aside the ones they no longer use. These can be donated to a homeless shelter, daycare center or even the nursery at a local place of worship. Here are a few places with national collection that accept gently used toys.
- Homeless Shelter Directory – Nationwide map to find a shelter near you.
- The Salvation Army  – Collects gently used clothing, household goods and toys for its stores.
Donate New Toys
There are several charities that host toy drives for underprivileged kids. When buying toys for your kids or grandkids as holiday gifts, you might consider picking up one for a needy child and donating it through a local drop-off site. You can also let the kids pick out a special toy they would like another child to have while they're doing their own holiday shopping.
- Toys for Tots – U.S. Marine Corps Reserve program collects new, unwrapped toys for less fortunate kids.
- Ronald McDonald House Charities – The Ronal McDonald House network houses families whose children are receiving medical care away from home. It accepts toys such as board games, books, puzzles and stuffed animals. Non-perishable food and daily living supplies are needed as well.
Charitable Events
You can also give back to your local community by making monetary donations, organizing an event or participating in a charitable event. If you're in a warm winter weather area, there are many golf tournaments and walks or runs that support a wide range of charities during the holiday season.
- Wounded Warrior Project – Support wounded military veterans as an event supporter, or encourage the kids in your family to become Student Ambassadors.
Giving back to the community is a great way to make the holidays even more special. It's also something you can do as a family year-round. Before making a monetary donation, you may wish to check with your state charitable organization regulation department to verify that they are registered.
---
This entry was posted in Toys on October 18, 2016
The lifestyle habits learned and developed during childhood often become lifelong habits. This is why instilling healthy habits and safe behavior for your little ones from an early age is so important. The sooner you begin reminding them of what is healthy and safe in their everyday routine, they will naturally recognize right from wrong, safe from unsafe, and healthy from unhealthy. You teach them these lessons and trust them to make the right choices when playing with friends and when they are at school.
Staying Healthy
- Brush your teeth at least twice a day, and floss at least once.
- Make healthy food choices. Have a fruit or vegetable with every meal and choose healthy snack options.
- Wash your hands or use hand sanitizer before and after every meal, after using the restroom, after recess, and more often when you are sick or getting a cold.
- Drink plenty of liquids. Stay hydrated with water throughout the day especially when playing.
- Get active. At least 30 minutes of exercise and fresh air every day.
Playing Safe
- Look both ways before crossing the street, or crossing in front of a driveway.
- Use all playground equipment as it was meant to be played on. No going up the slides or standing on the swings.
When riding a bike always wear safety gear and a properly fitted helmet.
 -Wear sneakers for recess and outdoor playtime.
- Dress appropriately for the playground. Remove necklaces, purses, scarves or clothing with drawstrings that can get caught on equipment and pose a strangulation hazard.
- No pushing, crowding or shoving.
- Limit the time playing video games and watching TV each day.
Elementary age children are at an extremely important age mentally, emotionally and physically. Giving them these helpful reminders will ensure they are learning and growing into smart and healthy adolescents.
---
This entry was posted in Toys on October 07, 2016
Whether your child is 3 years old or 13, chances are a majority of their time is spent in front of a computer, television or gaming screen. Providing other outlets and activities is vital for their development. Try these fun activities to get your kids active and to put down the technology.
Sports & Outdoor Activities
Have a supply of different types of balls, rackets, bats, and gloves. For older kids encourage getting involved and playing sports with neighborhood friends or through local leagues. Even if it is just 30 minutes of riding a bike or swinging at the park, exercise and fresh air is an important part of the day.
Science Projects
During the winter months when the weather may not always permit outside play, provide educational and creative alternatives.  3D models, erupting volcanoes, magnets, and nature discovery kits are all inspiring and scholastic activities children will enjoy.
Arts & Crafts
Drawing and craft materials are simple and provide endless possibilities. You'll be amazed at what kids can create with a few basic crafting supplies.
Games
Challenge kids to mentally stimulating games and activities, for example playing cards, marbles, board games, building blocks and puzzles.
Children's Books
Start a library of books for your kids, focused on all subjects and aimed for their age level. Check out Kettler's list of Top 10 Children's Books.
Family Field Trips
Go on outings together. Get involved with local volunteer projects or camps. Visiting parks, museums, mini-golf, the beach, amusement parks, zoos and aquariums is a great way to bond and have an adventure as a family.
Here are a few additional tips to limit your children's technology time:
Set an example. Your children's behavior is molded after yours, so put down the cellphone and close the laptop. Encourage healthy behaviors and activates while setting a boundary on the unhealthy ones. Set limited TV and gaming times, for an example one television show in the morning and one after school.
Keep TVs in the living room. Bedrooms should be a place for rest and quite play. Don't let children have a TV in their bedroom. Keep it in a family room where you can enjoy a show together and closer monitor their viewing time.
Pay attention to any behavioral changes. After too much television or gaming time children tend to get irritable, aggressive, and impatient. Be on the lookout for these signs and know when to suggest other activity.
Park the electronics. Have a designated spot to put electronics and cellphones when it's time for bed.
Cherish family time. Car rides and family meals are where some of the best family memories and conversations are had. Get involved and don't take away from valuable family time by leaving the TV on in the background.
As a rule of thumb: No TV for kids under 2 years of age, and one to two hours max per day for all other children.
---
This entry was posted in Table tennis on September 26, 2016
Table tennis is a game that's growing in popularity in the U.S., and not just as a backyard pastime. The addition of table tennis to the summer Olympic Games in 1998 has garnered much attention for the sport. In the past 16 years, several table tennis stars have emerged, both professional and amateur, on the international stage. While the Chinese national team is very strong and well-known in Olympic and World Championship play, the American scene has a few stars of its own. Meet 5 table tennis players who've had more than 15 minutes of fame.
1. Ma Long – This Chinese player is currently ranked Number 1 by the International Table Tennis Federation. He first learned how to play table tennis at the age of 5. At 18 he became the youngest player to win a world championship, playing for China on the 2006 World Team. Now at age 26, the player has several titles to his name, including the Men's Singles China National Games Champion in 2013, World Cup Men's Singles Champion in 2012 and World Tour Grand Finals Men's Champion for 2008, '09 and '11.
2. Danny Seemiller – This American has helped put the U.S. on the table tennis map since the 1970s. He's best known for inventing one of the most popular table tennis paddle grips in the game. The two-time U.S. Olympian has won five U.S. Men's Singles Championships, and was inducted into the USA Table Tennis (USATT) Hall of Fame in 1995. He once served as the president of the U.S. Table Tennis Association, and coached the U.S. World Team in 1989. He coached the U.S. Olympic team in 2000. Seemiller, who was born on June 13, 1954, received the Mark Matthews Lifetime Achievement Award in 2008. He now coaches up-and-coming table tennis players in Indiana.  
3. David Zhuang – Born in September of 1963, Zhuang grew up in China and began his competitive career when he was 11 years old. He moved to New Jersey in 1990. This USATT Hall of Famer has appeared in three Olympic games; 1996, '00 and '08. He won a gold medal in the men's singles and team competitions in the 1999 Pan American Games. His repertoire also includes 5 U.S. Men's Singles Championship titles, 7 for U.S. Men's Doubles and 6 for U.S. Mixed Doubles. Zhuang is known for playing an attacking style close to the table.
4. Gao Jun – Born in China in January of 1969, Jun picked up the game of table tennis when she was just five years old. She represented China in the 1992 Olympics, winning a silver medal in Women's Doubles. After moving to Maryland in 1994 and becoming a U.S. citizen, she played for the U.S. Olympic Teams in '00 and '04. Famous for her backhand block, this USATT Hall of Fame member excels in singles and doubles play. Jun has won 9 U.S. Women's Championships. She currently serves as head coach at the California Table Tennis club.
5. Wally Green – Often called the International Ambassador of Table Tennis, Green is a professional player who enjoys serious competition, but frequently plays for fun in exhibitions and charity events. He is known for his flamboyant blond hair and energetic style of play. At age 35, the New York native is a former member of the U.S. Table Tennis team and a former USATT program director and editor. Green most recently played in the 2014 Table Tennis World Tours in Korea, China and Germany. He is a member of SPiN New York, a social table tennis club. In his spare time, Green is also a designer, hip-hop entertainer and dancer, among other things. 
---
This entry was posted in Toys on September 14, 2016
Swingsets have always been one of the most popular pieces of playground equipment for kids. Swinging also tends to be one of the more challenging skills for children to master. The task of teaching your child is tricky as well. It's not until around age 5 that most children will have mastered the abilities needed to fully develop this gross motor skill; however it is never too early to start laying out the groundwork. According to experts at Baby Center children as young as 3 may be ready to start learning the basics of swinging. Once children understand how to pump their legs, swinging by themselves comes naturally. Here is a method to try with your child to help them learn to safely swing on their own.
1. Before beginning the teaching process, let your child watch you swing so they can see the motion of pumping your legs and how your body makes the swing move back and forth.
2. Have your child sit on the swing and grab hold of the ropes for security. Let them experiment with their balance, shifting their center of gravity and using their bodyweight to slide around to find a comfortable position.
3. Give them a push to get started and then move to the front of the swing. Hold out your hands and stand back far enough that your hands are a few inches away from their feet.
4. Encourage your child to pull their legs in as they move back on the downswing and extend them forward on the upswing. This in and out movement is the basic pumping motion. Challenge your child to lean back some and extend their legs when coming forward to try to touch their feet to the palms of your hands.
5. Repeat "in and out" as they swing.  The spoken words will register with the motion and they will begin sensing the changes in momentum.
6. As they learn that pumping their legs back and forth will make them go faster and higher teach them to slow down gradually by keeping their legs still.
7. Once they are swinging slowly enough have them place their feet on the ground to completely stop and step down.
As with any activity your child's safety is number one priority. Here are a few safety tips for your children and you to take into consideration when playing on and around a swingset.
- Give swingers enough room, do not stand or walk too close in front or behind the swingset.
- Have a soft impact-absorbing surface underneath your swingset.
- Only one person per swing at a time.
- Swing only when sitting down.
- Follow any specific directions for the weight limit and maximum number of children the equipment can support.
- For toddlers and younger children, use swings with enclosed sides and safety bars.
- Lower hanging swings work best so that children can get on and off safely on their own.
- Actively supervise your children's outdoor playtime.
Find additional playground safety tips!
---
This entry was posted in Patio on August 09, 2016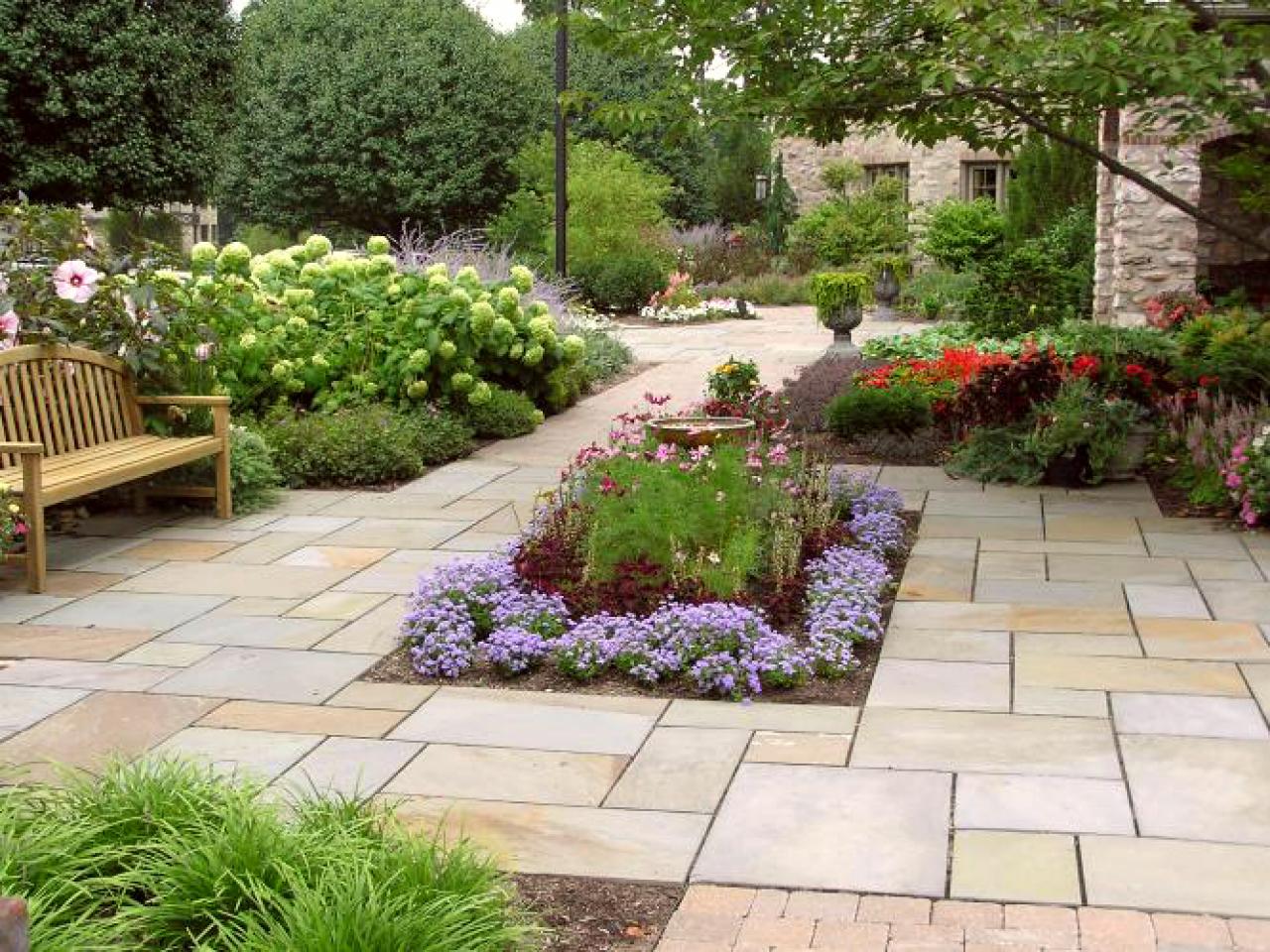 Your patio space is ideal for showcasing and highlighting with container plants and potters filled with flowers and greenery of all colors and textures. Add pops of color, and soften hard surfaces with succulents and blossoms. Blend the green of your lawn with surrounding garden beds and containers of plants that complement the rest of the yard. Strategically placed containers can also be used to create cozy zones and borders in different areas of your deck or patio.
When choosing patio plants first ask yourself how much maintenance are you willing to do? Many plants require regular trimming and weeding to keep them growing and looking healthy. Sticking with durable plants that don't over grow is your best bet. Annuals are a perfect option for patio growing. These types of flowers grow great in large pots and are long blooming through the seasons, seeding in the summer months. Perennials, on the other hand typically have a shorter bloom period, but if taken care of properly will return every year. These also work well in containers. Perennials need to be divided every 2-3 years to keep them blooming but will continue to seed and spread giving you more flowers to fill your yard with every year.
Here are some of the best plants to grow on your patio:
Herbs and Vegetables
Growing tomatoes, peppers, fresh mint, oregano, or rosemary near the cooking area of the patio is convenient and easy. Herbs thrive on sunlight, and having a garden of your favorite veggies is a delicious treat.  
Geraniums
Extremely easy to care for and they come in a range of vibrant colors.
Bamboo
Add an element of Zen to your patio. The height of bamboo plants is great for small spaces to add the illusion of more room. Keep it small or grow in a large container for a fast-growing screen to add privacy.  
Lantana
These beautiful multi-colored flowers come in red, orange, yellow, pink, and white and are also loved by butterflies.
Mandevilla
This flowering vine is fast growing and blooms in large trumpet shapes in shades of pink, red, and white.
Sunflowers
Classic, bright, and summery – sunflowers look great in clay pots and boxes. Let them grow as tall as you want.
Agave
This stunning plant has bold succulent leaves that give an earthy and architectural feel to any patio. Agave is incredibly heat tolerant and long lasting.
Jasmine
Grow in full sun or partial shade – this scented plant comes in shades of yellow or white. The star shaped blooms grow as a twining vine, best for a trellis or arbor.
There is no right or wrong plants to grow on your patio, as long as you choose ones suited to your climate and give them plenty of room to grow and thrive!
---
This entry was posted in Table tennis on August 01, 2016
A racquet or paddle is the most important piece of equipment in a game of table tennis. It's what controls the speed and spin of the ball when you serve or hit it back to your opponent. Having a quality paddle that feels comfortable in your hand will make a huge difference in your game.
How They're Made
Paddles are typically purchased by the manufacturer, but many serious players and professionals have their paddles custom made.
Pros of Buying a Pre-Made Paddle
- Typically cheaper
- The paddle is already assembled and ready for use
-  No need to purchase edge tape, glue, or tools for assembling the blade
- Simpler options when choosing a paddle, if you are not an experienced player yet
Pros of Buying a Custom Paddle
- Greater options in rubber choices
- Blades are categorized so you can choose one that best fits your playing style
- Higher quality blades
- As you learn to play and change your style you can change the rubbers
- Replaceable rubbers let you replace them when they wear down
- Rubbers can be speed glued
For those custom making their paddles the first step is choosing a blank blade, or a paddle without rubber, this is usually decided based upon a person's playing style. The type of wood, or synthetic material used to make the blade will determine its speed. Next a sheet of rubber is glued to a blade using glue made especially for table tennis. The different types of rubber sheets affect the level of speed and spin when you hit the ball.
Maintaining and protection
The surface of your table tennis paddle will become smooth and sleek with use. Water and gentle soap can be use on the paddle for cleaning to maintain its high friction service for ball spin. The rubber may be damaged with long exposure in the sun, so for your outdoor table tennis tables be sure to keep your balls and paddles indoors or in a protected place. Or check out KETTLER's Halo 5.0 Outdoor TT racquet. For a quick fix if rubber begins to peel up, rubber cement or other similar products can be utilized as a temporary way to keep your paddle usable.
Grip Techniques
When using your table tennis paddle there are two common grips: the pen grip and the shakehand grip. When using the pen grip you hold the paddle just like you would hold a pen or pencil. For the shakehand grip you place your hand on the paddle's handle as if you were shaking hands with it. While both styles of grip are common, no matter which you decide feels more natural for you always hold the paddle loosely, allowing your wrist to move freely. Many KETTLER racquets featuring concave handle with ergo grip and shock absorber inside the handle to absorb any vibration that may affect play.
---
This entry was posted in Patio on July 27, 2016